New layout, new owner, new gallery – lots of newness going around.
A newly improved and updated Josh Hutcherson Source is coming your way!  Stay tuned! In the time since the site was last updated, Josh has been officially reported as landing the highly coveted role of Peeta Mellark in the upcoming The Hunger Games movie alongside other Hollywood teens, Jennifer Lawrence (Katniss Everdeen) and Liam Hemsworth (Gale Hawthorne).
LOS ANGELES, CA, April 4, 2011- Lionsgate® and the filmmakers of THE HUNGER GAMES are pleased to announce that actor Josh Hutcherson (THE KIDS ARE ALRIGHT) has been cast in the role of Peeta Mellark, with Liam Hemsworth (THE LAST SONG) joining the film in the role of Gale Hawthorne in the much anticipated film adaptation of Suzanne Collins' worldwide smash hit novel. Both actors will star opposite Jennifer Lawrence, who it was recently announced will play heroine Katniss Everdeen.

Peeta accompanies heroine Katniss Everdeen into the 74th annual Hunger Games as the male tribute chosen from their native District 12, the most remote and marginalized district of all the subjugated districts of Panem. At the outset of the Games, Peeta publicly confesses his longtime feelings for Katniss, setting up one of the most fascinating fictional rapports of all time with his supposed arena rival.

Though Katniss and Gale have never had a romantic relationship, they share a transcendent bond, often of few words. When Katniss volunteers to participate in the 74th Annual Hunger Games in her younger sister's stead, they both presume that bond will carry her far through the horrors she will face in the arena, and they each silently hope they'll be reunited in safety on the other side of the ordeal.
Happy 17th Birthday, Josh!
Josh Hutcherson answers your questions

Josh|MySpace Videos
Today is Josh's 17th birthday! Here's a massive Happy Birthday to Josh from everyone who visits Josh-H.com! Feel free to leave birthday wishes for Josh in the comments Above is a video answering fan questions that Josh did at the Cirque Du Freak premiere. Enjoy!

Josh Will Be Answering Fan Questions!
Hey Everyone,
I would like to answer my fan questions via myspace video. All you have to do is, post your question in the comment section of this blog post. I will be answering them and posting them to my website and myspace via video on October 5th
Looking forward to answering your questions!!!!
Josh at Universal's Halloween Horror Nights
I've added a picture of Josh at the Universal's Halloween Horror Nights recently to the gallery. Check it out!
How To Get Josh Hutcherson's Attention
New Pictures of Josh going to Keke Palmer's Birthday Party
I've added 7 Pictures of Josh going to Keke Palmer's Birthday Party to the gallery here. Have a look!
Teen Choice Awards & Power of Youth Party HQ Pics
Gallery Updates!
I've done a small gallery update today. You can check out a picture of Josh with Victoria here.
Thanks to Samantha on the forums for the heads up, we also now have four pictures of Josh with his mom at Loftseven Comedy Club last month. You can look at those here.
Josh Hutcherson Joins Red Dawn Remake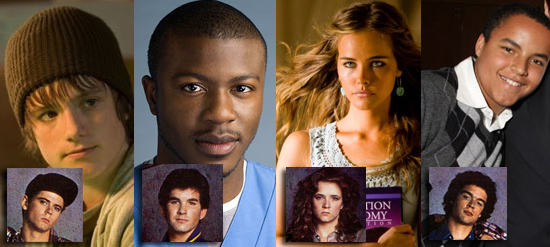 Entertainment Weekly has revealed four new members of the cast of the 2010 Dan Bradley's remake of Red Dawn. MGM is producing the redo of the 1984 John Milius action war drama about a bunch of Colorado high school students who must run for cover then Soviet and Cuban troops invade their school. The students decide to wage their own guerrilla warfare against the invaders under the banner of their football team, The Wolverines.
Josh Hutcherson (Journey to the Center of the Earth) will play the role of Robert, originated by C. Thomas Howell, the Wolverine's tech geek and communications specialist who transforms into a warrior along the way.
Josh at DoSomething.org Power Of Youth party
I've added three photos of Josh at the DoSomething.org Power Of Youth party from today to the gallery. Check them out here.